Home
/
News
/ Inflation Rate Slowed to 1.7% in the Fourth Quarter of 2018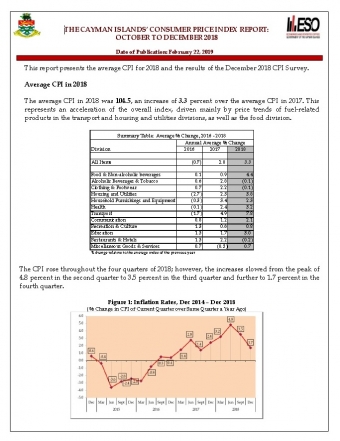 Inflation Rate Slowed to 1.7% in the Fourth Quarter of 2018
The Consumer Price Index in Cayman rose by 1.7% in the fourth quarter of 2018 compared to the same period in 2017. This represents a further slowing of the inflation rate from the peak of 4.8% in the second quarter and 3.5% in the third quarter. The average inflation rate for 2018 is 3.3%.
In the fourth quarter, the highest average price increases in the CPI basket were recorded in food & non-alcoholic beverages (4.6%), followed by housing and utilities (3.0%). The rise in the latter division is due to the average cost of electricity which went up by 15.4%, and water supply which increased by 5.0%; these were largely offset by generally stable housing rentals during the period.
The core inflation rate is the change in the overall CPI index excluding items that are considered as "volatile items." Following the methodology used by the US Bureau of Labor Statistics, these are food and non-alcoholic beverages and all fuel-related items (piped gas and electricity, motor fuels, fuel oil and other household fuels). Core inflation is used mainly as a measure of price stability. The core inflation rate for the quarter ending December 2018 over the same period in 2017 is 0.4 percent, significantly lower than the overall CPI inflation rate of 1.7 percent.
More information from the Cayman Islands' Consumer Price Index Report: December 2018 may be downloaded from www.eso.ky