Home
/
News
/ Travis Walters October Employee of Month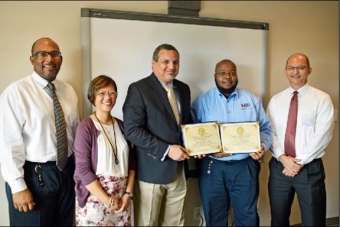 Travis Walters October Employee of Month
"Travis Walters from the Economics and Statistics Office (ESO) scooped two awards for the month of October 2015."
He was the Chief Officer's Employee of the Month and also the Cayman Islands Government Employee of the Month, under the Deputy Governor's Award Programme.
Mr. Walters is a Statistician III in the Social Statistics Unit of ESO. His nomination for the awards was based on his use of IT skills to improve the efficiency of himself and his colleagues in responding to data requests from the public and private sectors, locally and internationally.
"Travis has been the in-house 'help desk' for the customised data processing software at ESO," said Chief Officer Kenneth Jefferson.
Mr. Walters is also the "go-to" person for the data needs of clients outside of ESO, including students, churches, law firms, banks, regulatory authorities and other community organisations, as well as government departments.
Some of the key data that Travis routinely provides, which impacts the general welfare of the community, includes: the Electricity Regulatory Authority's core inflation rate, which is used in the review of electricity rates in Grand Cayman, as well as specific Census and Labour Force Survey data that is used in court cases and business planning,
He played a key role in developing a tablet-based questionnaire for the Labour Force Survey as well as training staff to use the tablets.
In addition, he routinely contributes to the development of initiatives at ESO to improve service delivery.
"Beyond his excellent customer service, Travis has been extremely helpful in identifying ways to minimize the cost of IT resources," said Mr. Jefferson. "His diligence in assisting the external developers of ESO's customized software has also reduced the overall cost of consulting."
Mr. Walters joined ESO in May 2010 in the entry level position of Survey Enumerator, Coder and Verifier and was promoted to his current position in January 2013,
He also undertook further education, completing his master's degree in computer science and programming in December 2013.
"Travis embodies humility; he chose to start at ESO in an entry position despite having a bachelor of science in computer science," said ESO Director Maria Zingapan. "On the other hand, he is not timid. He dreams of being ESO director someday, and has taken steps towards that dream such as completing a masters degree in computer science, and increasingly applying his knowledge in statistical data processing."
Deputy Governor Franz Manderson praised Mr. Walters for his values and the standard of his work.
"You serve as a role model for all civil servants," he said. "Thank you for demonstrating such a remarkable level of performance and commitment to the Cayman Islands Government."