Home
/
News
/ Tourism recovery supports Cayman's economic growth in 2022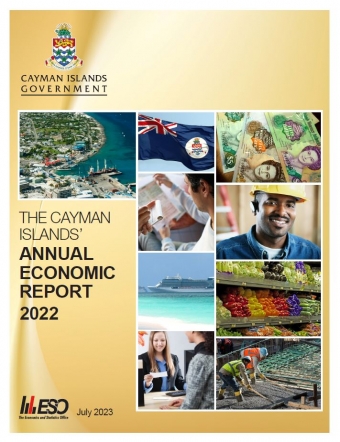 Tourism recovery supports Cayman's economic growth in 2022
Real Gross Domestic Product (GDP) is estimated to have expanded by 3.8 percent. A rebound in visitor arrivals positively contributed to economic growth in 2022. This was the highlight of The Cayman Islands' Annual Economic Report 2022, released by the Economics and Statistics Office (ESO).
The economic performance for the year was largely driven by the services sector, which accounted for 89.4 percent of GDP, and increased by 3.7 percent. Actual indicators point to robust growth in the hotels and restaurants sector (up by 23.2%); transport, storage and communication sector (up by 11.4%); other services (up by 6.1%); wholesale & retail trade (4.8%); and real estate (4.8%).
Visitor arrivals to the Islands surpassed the 1.0 million mark for the year relative to 17.3 thousand in 2021. This increased demand for travel was also evident in other Caribbean countries such as Trinidad & Tobago, Dominica, Guyana and Grenada. The Cayman Islands, however, recorded the largest percentage increase in stay-over arrival for 2022.
At the end of 2022, the government generated an operating surplus (i.e. its operating Revenues [of $1,021.3 million] less its operating Expenditures [of $968.1 million]) of $53.2 million. Revenues from taxes and other revenue sources were also able to cover total expenditures resulting in net lending of $2.4 million.
The central government's outstanding debt increased to $ 506.4 million at the end of 2022 from $222.7 million at the end of 2021.
For more information on The Cayman Islands' Annual Economic Report 2022, please visit www.eso.ky.