Home
/
News
/ The Inflation Rate Slowed to 4.1 percent for the Second Quarter of 2023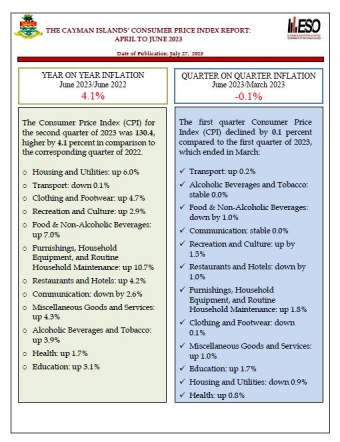 The Inflation Rate Slowed to 4.1 percent for the Second Quarter of 2023
The second quarter inflation rate was 4.1 percent, and among the leading contributors was a 10.7 percent rise in household furnishings and equipment. Food and non-alcoholic beverages followed with a 7.0 percent rise in its index.
There was also an upward movement of 6.0 percent in housing and utilities, 4.7 percent in clothing and footwear, a 4.3 percent in miscellaneous goods and services, 4.2 percent in restaurants and hotels, and a 3.9 percent increase in alcoholic beverages and tobacco.
The 6.0 percent increase in the index for housing and utilities was primarily the result of the 15.3 percent rise in the index for electricity. The index for water supply increased by 10.0 percent, actual rentals paid by tenants rose by 9.0 percent, and materials for the maintenance and repair of the dwelling, which went up by 10.6 percent, also contributed to the increase.
A comparison of the second quarter of 2023 with the first quarter of 2023 indicates that the CPI declined by 0.1 percent, as the index for food and non-alcoholic beverages fell by 1.0 percent, restaurants and hotels by 1.0 percent, housing and utilities decreased by 0.9 percent, and clothing and footwear by 1.0 percent. Increases in the index for household furnishings and equipment of 1.8 percent, education of 1.7 percent, and recreation and culture of 1.5 percent had a moderating effect.
More information from the Cayman Islands' Consumer Price Index Report: April to June 2023 may be downloaded from www.eso.ky