Home
/
News
/ Merchandise Imports showed growth in second quarter 2022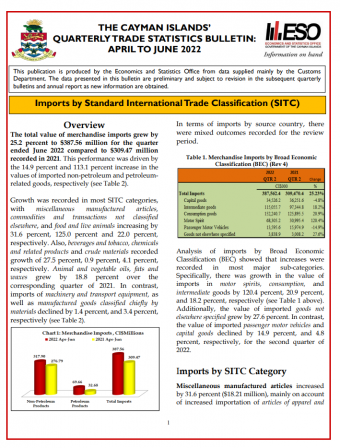 Merchandise Imports showed growth in second quarter 2022
The total value of merchandise imports increased for the second quarter of 2022 as the economy showed continued growth.
Imports for the second quarter stood at $387.56 million, an increase of 25.2 percent, resulting from higher imports of both Non-petroleum and Petroleum & Petroleum-related products by 14.9 percent and 113.1 percent, respectively.
There was growth in most categories of imports, as food imports grew by 22.0 percent with increased importation of meat and meat preparations, vegetables and fruit, eggs, fish and dairy products.
Imports of beverages and tobacco grew by 27.5 percent. Miscellaneous manufactured goods, which include items such as clothing, and jewellery, showed strong growth of 31.6 percent for the June 2022 period over the previous corresponding quarter.
In contrast, machinery and transport equipment such as road vehicles, office machinery and machinery specialized for particular industries were lower by 1.4 percent. Additionally, imports of manufactured goods classified chiefly by materials, such as iron and steel and non-ferrous metals, was lower by 19.9 percent, despite the growth in paper products and rubber manufactures by 27.6 percent and 7.9 percent, respectively.
There was a higher imported value of all major fuel types due to the higher average price of diesel, motor spirit and aviation fuel on the international market.
The imported volumes of aviation and diesel fuel were higher, with a marginal reduction in the volume of motor fuel purchased for the April to June 2022 period.
More information on the "The Cayman Islands' Quarterly Trade Statistics Bulletin: April to June 2022," are available at www.eso.ky.
(ENDS)