Home
/
News
/ Merchandise Imports recorded growth for the first quarter of 2020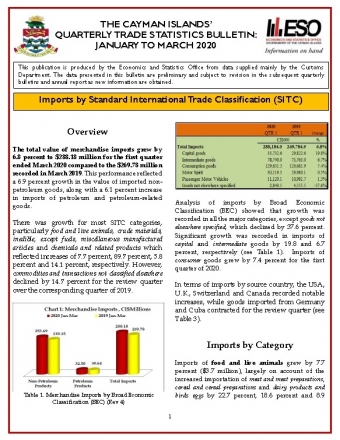 Merchandise Imports recorded growth for the first quarter of 2020
The total value of the Islands' importation of goods stood at $288.18 million, an increase of 6.8 percent for the first quarter of 2020. This increase resulted from the growth in both non-petroleum and petroleum-related imports.
Non-petroleum imports amounted to $255.69 million, an increase of 6.9 percent. Among the items that grew were food items such as meat, cereal and dairy products. Additionally, crude materials such as wood products and crude fertilizers also increased. There was a 5.8 percent growth in imports of miscellaneous manufactured articles such as furniture as well as a 2.1 percent increase in imports of machinery and transport goods such as road vehicles and general industrial machinery. Imports of beverages and tobacco increased marginally for the quarter as a result of the growth in tobacco products, partially offset by reductions in imports of alcoholic beverages such as wines, beer and rum for the first three months of the year.
Petroleum and petroleum-related imports recorded an increase of 6.1 percent to reach $32.5 million. This growth was driven by increased volume of imported fuel. However, there was a reduction in the average price of mineral fuel imported for the first quarter of the year.
More information on the "The Cayman Islands' Quarterly Trade Statistics Bulletin: January to March 2020," are available at www.eso.ky.