Home
/
News
/ Merchandise imports marginal growth for the first quarter of 2023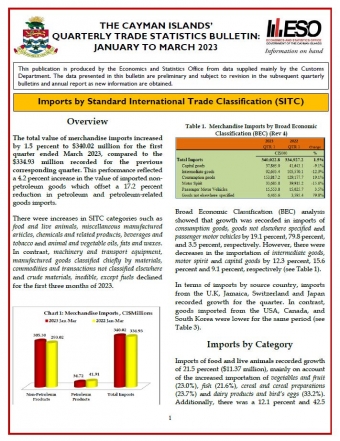 Merchandise imports marginal growth for the first quarter of 2023
The total value of the Islands' importation of goods for the first quarter of 2023 stood at $340.0 million, an increase of 1.5 percent. This growth resulted from the rise in non-petroleum products which was partially offset by the reduced importation of petroleum-related products.
Non-petroleum imports amounted to $305.3 million, an increase of 4.2 percent. There was a 21.5 percent growth in the imports of food and live animals, mainly vegetables and fruit, fish, cereal, dairy products and birds eggs. Imports of miscellaneous manufactured goods were 10.9 percent higher and reflected items such as clothing apparel, photographic apparatus and equipment. The larger importation of beverages and tobacco by 24.2 percent reflected the increased importation of wines, liqueurs, rum as well as non-alcoholic beverages like mineral water. Chemicals and related products grew by 19.7 percent as a result of increased purchases of essential oils, medicines and plastics. In contrast, there was a reduction in imports of machinery and transport equipment by 6.6 percent due to lower imports of road vehicles, telecoms equipment and office machinery, while manufactured goods classified chiefly by materials declined by 10.0 percent, due to the smaller importation of iron and steel, non-metallic mineral manufactures and cork and wood manufactures. Commodities and transactions not classified elsewhere declined primarily from the $6.1 million reduction in imports of non-monetary gold.
Petroleum and petroleum-related imports recorded a decrease of 17.2 percent to reach $34.7 million for the quarter. This decline was driven by the reduced volumes of all major types of petroleum fuel imported, except aviation fuel, for the review period.
More information on the "The Cayman Islands' Quarterly Trade Statistics Bulletin: January to March 2023" are available at www.eso.ky.