Home
/
News
/ Merchandise Imports continue growth for 2021 Third Quarter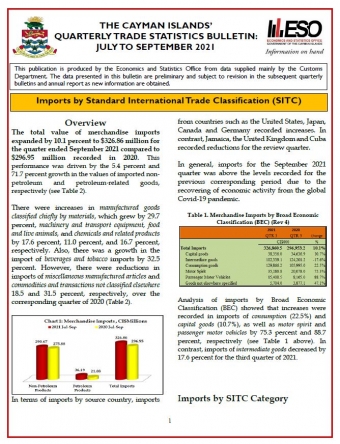 Merchandise Imports continue growth for 2021 Third Quarter
The total value of the merchandise imports grew to $326.86 for the July to September 2021 quarter, an increase of 10.1 percent over the previous corresponding quarter, with non-petroleum and petroleum & petroleum-related imports growing by 5.4 percent and 71.7 percent, respectively.
Growth was recorded in the imports of most categories of the Standard International Trade Classification (SITC), specially manufactured goods classified chiefly by materials (29.7%) such as manufactures of metals, wood, iron and steel imports. Additionally, machinery and transport goods (17.6%) grew primarily, reflecting the increased imports of road vehicles and general industrial machinery and equipment and some power-generating equipment. Food and live animals increased by 11.0 percent, reflecting the larger importation of fruits and vegetables, meat, fish, and cereal as well as beverages and tobacco by 32.5 percent. In contrast, commodities and transactions not classified elsewhere fell 31.5 percent and miscellaneous manufactured articles, which reflected the reduction in miscellaneous manufactured articles, n.e.s by 49.9 percent. Also of note is the increased importation of articles of apparel (39.3%) and furniture and parts (41.6%) for the September 2021 quarter.
There was a higher imported value of motor fuel, aviation and diesel fuel imported for the quarter, which is determined mainly by the significant increase in the average price of petroleum products imported, which is estimated to grow by approximately 72 percent for the third quarter of 2021.
More information on the "The Cayman Islands' Quarterly Trade Statistics Bulletin: July to September 2021," are available at www.eso.ky.