Home
/
News
/ Local Cayman Economy Grew in the First Nine Months of 2013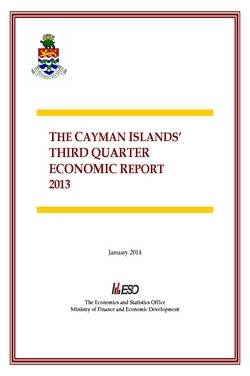 Local Cayman Economy Grew in the First Nine Months of 2013
"Local Economy Grew in the First Nine Months of 2013 as Fiscal Performance Improved"
Overall economic activity in the Cayman Islands' grew by an estimated 1.0 percent in the first nine months of 2013.

Growth was contributed by a number of sectors led by hotels and restaurants (5.5%), construction (2.1%), real estate, and renting and business activities (2.0%). Financing and insurance, the largest sector, posted growth of 1.8 percent.

⫿I am pleased to report that with the growth of the economy, the overall fiscal balance of the central government improved to a surplus of $80.7 million as compared to a deficit of $1.6 million a year earlier,??? noted the Minister for Finance and Economic Development, Honourable Marco Archer. ⫿This resulted as total revenue grew by 15.5 percent while total expenditure declined by 3.1percent. The central government's outstanding debt continued to decline, amounting to $569.4 million as at September 2013, lower by 4.4 percent from the same period a year ago,??? he further noted.
Tags:
Cayman economic activity, Cayman Islands