Home
/
News
/ Imports Showed Robust Growth in the First Quarter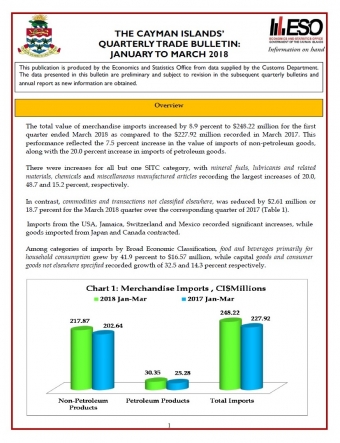 Imports Showed Robust Growth in the First Quarter
The total value of the Islands' importation of goods stood at $248.22 million for the first quarter of 2018.
Importation of both non-petroleum and petroleum-related imports grew, compared to the first quarter of 2017.
Non-petroleum imports amounted to $217.87 million, an increase of 7.5 percent. Among the items that increased were various chemical products such as medicinal and pharmaceutical product, machinery, and industrial and telecommunications equipment. However, passenger motor vehicles imports fell.
Petroleum and petroleum-related imports recorded an increase of 20.0 percent to reach $30.35 million. This growth largely reflected an increase of 18.6 percent in the average price of fuel. However, there was a marginal reduction of 0.85 percent in the overall volume of mineral fuel mainly diesel fuel.
More information on the "The Cayman Islands' Quarterly Trade Statistics Bulletin: January to March 2018," are available at www.eso.ky.