Home
/
News
/ Imports Continued Strong Growth in the Third Quarter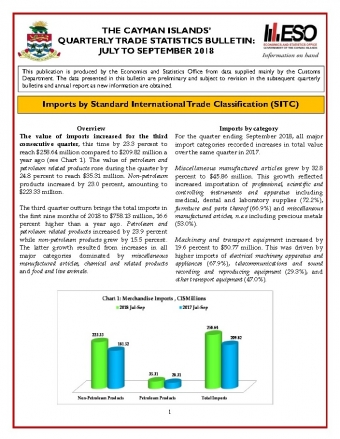 Imports Continued Strong Growth in the Third Quarter
The total value of the Cayman Islands' importation of goods stood at $258.64 million in the third quarter of 2018, an increase of 23.3 percent over the same quarter in 2017.
Importation of both non-petroleum and petroleum-related imports grew strongly compared to the third quarter of 2017.
Non-petroleum imports amounted to $223.33 million, an increase of 23.0 percent as all major categories recorded higher values. In particular, the total value of miscellaneous manufactured articles grew by 32.8 percent comprising largely of furniture, precious metals and medical equipment. Imports of machinery and transport equipment increased by 19.6 percent to $50.77 million, due to larger imports of electrical machinery and appliances, and telecommunications and sound recording equipment.
Petroleum and petroleum-related imports recorded an increase of 24.8 percent to reach $35.31 million. This growth largely reflected an increase in the average price of fuel in the international market.
The third quarter data brings the total imports for the first nine months of 2018 to $758.13 million, higher by 16.6 percent compared to the same period in 2017. Non-petroleum imports rose by 15.5 percent, while petroleum products increased by 23.9 percent.
More information on the "The Cayman Islands' Quarterly Trade Statistics Bulletin: July to September 2018," are available at www.eso.ky.