Home
/
News
/ GDP Growth in the First Half of the year Estimated at 3.1%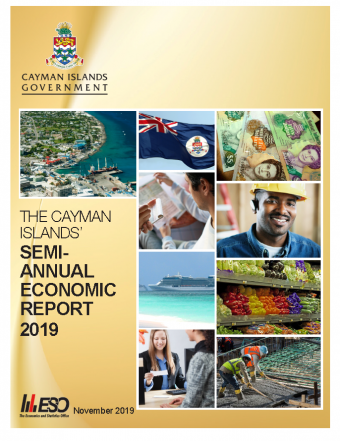 GDP Growth in the First Half of the year Estimated at 3.1%
Economic activity in the Cayman Islands as measured by the gross domestic product (GDP) in real terms is estimated to have grown by 3.1% in the first six months of 2019.
The strong economic performance was contributed by all major sectors with the highest growth rates indicated for hotels and restaurants (8.0%), wholesale and retail trade, repair and installation of machinery (6.1%), construction (5.9%), electricity and water supply (4.6%) and real estate (4.5%).
Stay over tourist arrivals increased by 11.0% to a record 280,704 in the first half of the year. This increased international demand, coupled with a 3.8% rise in the domestic population level to 65,813 spurred the growth in auxiliary sectors for the review period.
Coinciding with the strong GDP growth, the central government recorded an overall surplus of CI$178.3 million in the first half of 2019. This resulted as growth in revenue of $37.3 million outweighed a rise in total expenditure of $37.2 million. The increase in revenue was generated mainly from domestic taxes on goods and services, led by financial service fees. The rise in expenditure is traced to increases in current expenses such as employee compensation which rose by 12.7%.
The central government's outstanding debt fell anew and settled at $407.1 million as at June 2019, lower than the $431.5 million recorded for the same period in 2018.
For more information on the "The Cayman Islands' Semi-Annual Economic Report 2019," please visit www.eso.ky.