Home
/
News
/ Falling Oil Prices Continue to Cut Cayman's Imports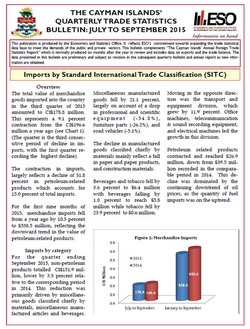 Falling Oil Prices Continue to Cut Cayman's Imports
"For the third consecutive quarter in 2015, the total imports of the Cayman Islands fell."
The total value of all merchandise goods imported into the country amounted to CI$178.8 million, lower by 9.1 percent as compared to $196.6 million in the same period in 2014.
"The decline largely reflects the impact of depressed international oil prices on petroleum-related imports, which continued to rise in quantity," explained the Minister for Finance and Economic Development, Hon. Marco Archer.
Non-petroleum products, which accounted for 84.9 percent of total imports, fell at a comparatively lower rate of 3.3 percent. Among the major sub-categories, miscellaneous manufactured goods which included professional equipment, furniture parts and road vehicles registered the largest contractions.
More information on the "The Cayman Islands' Quarterly Trade Statistics Bulletin: July to September 2015," are available at www.eso.ky.