Home
/
News
/ Economic expansion is estimated at 2.8 percent for the first three quarters of 2016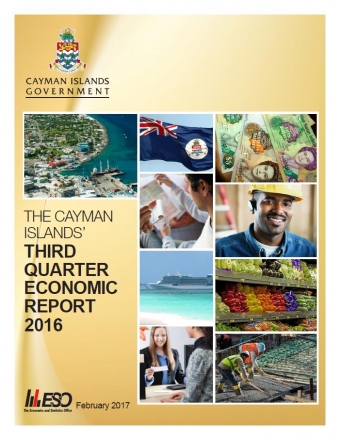 Economic expansion is estimated at 2.8 percent for the first three quarters of 2016
The Cayman Islands' economy grew by an estimated 2.8 percent in the first nine months of 2016, higher than the 2.6 percent recorded for the corresponding period of 2015.
"The continued improvement in growth is supported by a growing structural and regulatory framework to ensure that the Island remains on a sustainable path. I am pleased to note that the Island's growth remains stronger than most of our partners in the region." stated Hon. Marco Archer, Minister for Finance and Economic Development.
Growth was contributed by all sectors except for one, with major contributions coming from; construction (up by 12.0%), utilities (up by 5.6%) real Estate, renting & business activities (up 2.2%) and wholesale and retail trade (up by 8.1%).
Financing and insurance services, which accounts for approximately 40 percent of GDP grew by 1.2 percent, generated mainly from domestic lending activity of commercial banks.
Continued improvement in economic activity facilitated further improvements in central government performance. Consequently, the fiscal surplus widened to $112.5 million owing to a larger increase in total revenue relative to total expenditure.
The central government's outstanding debt also continued its downtrend and settled at CI$198.7 million as at September 2016, lower by 3.8 percent from the same period a year ago.