Home
/
News
/ Domestic Economic Growth in 2015 Highest Since 2007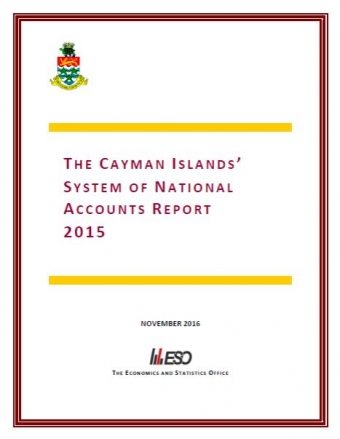 Domestic Economic Growth in 2015 Highest Since 2007
The Cayman Islands' System of National Accounts Report 2015 which presents the economic performance of the various industries contributing to the country's Gross Domestic Product (GDP) is released today.
The GDP estimate for 2015 based on data collected from local businesses shows that the local economy expanded by 2.8%, the highest recorded rate of growth since 2007.
"The 2.8% growth exceeded the 2.0% advance estimate for the year based on early indicators," noted the Minister for Finance & Economic Development, Honourable Marco Archer. "Moreover, it was broad based as all sectors in the economy turned in positive growth rates. This augurs well for the increased diversification of our economic base," he further stated.
The industries with the highest expansion rates were mining & quarrying led the way; human health & social work (6.9%); construction (6.1%); education services (3.9%); professional, scientific & technical activities which mainly includes legal and accounting services (3.7%); and administrative & support services activities comprising mainly of security and car rental services (3.4%).
The financial & insurance services industry posted a 2.1 percent growth in 2015, which is also the strongest since 2007. The performance was fuelled by increased output in insurance services (4.0%); auxiliary financial services (2.9%); and services of banking institutions (1.6%).
Despite the growth in 2015, the country's GDP per capita in current prices declined by 0.4 percent to CI$48,167 as the 2.8 percent growth in GDP was outstripped by the 3.6 percent increase in the estimated mid-year population.