Home
/
News
/ COVID-19 Passenger Departure Survey Report – August 2020 Released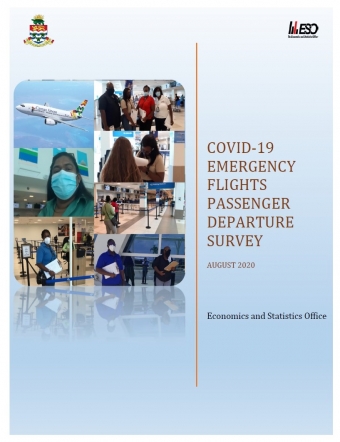 COVID-19 Passenger Departure Survey Report – August 2020 Released
The Cayman Islands' COVID-19 Passenger Departure Survey Report released by the Economics and Statistics Office is a collection of statistics based on data collected from passengers departing the Owen Roberts International Airport between May 1 and August 31, 2020. The Report covers the background and objectives, the population estimates, and some aspects of the survey results.
The mid-year population as of June 2020, is estimated at 64,958, of which 37,887 (or 58.3%) are Caymanians while 27,071 (or 41.7%) are Non-Caymanians. In the Fall 2019 Labour Force Survey Report, the population of the Cayman Islands was estimated at 69,914.
The number of residents (Caymanians, Permanent residents, work permit/contract holders, and dependants) departing the Cayman Islands since the closure of the airport over the period March 23 to August 31, 2020, stood at 4,460. The total number of departing passengers interviewed was 4,410. However, the total number of passenger departure (residents and non-residents) was 6,895. A total of 3,883 persons participated in the exit survey, or 87.1 percent of all departing passengers.
Of the 4,410 resident passengers interviewed, most of the travellers were from George Town (57.5%), West Bay (24.8%), and Bodden Town (10.8%).
Male residents exiting the islands stood at 2,013 or 51.8 percent, while females totalled 1,870 or 48.2 percent. The largest share of individuals departing the Cayman Islands on the emergency flights were male work permit holders. Of the departing passengers, 2,971 were Non-Caymanians or 76.5 percent, and 912, or 23.5 percent, were Caymanians.
Work permit holders within the 25-54 age cohorts accounted for 62.6 percent or 2,429 persons, while for the Caymanian passengers, the main age group departing was 15-24 with a total of 877 or 22.6 percent. This age cohort is in line with that of returning students.
For more information on The Cayman Islands' COVID-19 Passenger Departure Survey Report – August 2020, visit www.eso.ky.