Home
/
News
/ Consumption Expenditure by Households in Cayman Reached $1.7 Billion in 2015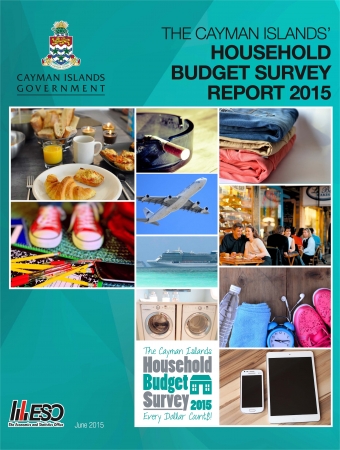 Consumption Expenditure by Households in Cayman Reached $1.7 Billion in 2015
"The overall household consumption expenditure in the Cayman Islands in 2015 is estimated at $1,697.07 million."
The overall household consumption expenditure in the Cayman Islands in 2015 is estimated at $1,697.07 million. This is revealed in the Household Budget Survey (HBS) 2015 Report released today by the Economics and Statistics Office. The survey covered all 12 months of 2015 and generated a response rate of 83% among 1,216 sample households in Grand Cayman and the Sister Islands.
The Report also shows that total household consumption in Grand Cayman amounted to $1,655.93 million while the Sister Islands had $41.13 million.
The per capita consumption in 2015 is estimated at $28,411 per year while for residents of Grand Cayman, the estimate was $28,694 and that for the Sister Islands residents was $20,333. Ranking of the population by per capita consumption expenditure shows that the lowest 20% (Quintile 1) had an average annual consumption expenditure of $9,564. In the highest quintile, the estimated average expenditure amounted to $73,637.
The total consumption expenditure in 2015 is 36.5% higher than the $1,243.11 million in 2007. "The increase is partly due to population growth of approximately 1.4 % annually between 2007 and 2015, and partly due to an increase in per capita consumption," stated the Minister for Finance and Economic Development, Honourable Marco Archer.
Per capita consumption increased by approximately 2.5% a year. The highest increases were estimated for alcoholic beverages and tobacco (18.5%), restaurant and hotels (11.6%), transport (10.8%), followed by recreation and culture (7.4%). "These are general indications of lifestyle changes among residents," the Minister noted.
Per capita spending for education which is largely accounted for by non-Caymanians increased annually by 6.5%.
Expenditures associated with basic needs showed almost stable per capita annual growth over the period: health (0.1%); housing and utilities (0.3%); and food and non-alcoholic beverages (0.8%). The slow growth for the housing division is traced to the decline in expenditure for maintenance and minor repairs, most likely due to the normalization of such expenses compared to the 2007 post-hurricane Ivan level.
Expenditure for furnishings, household equipment and routine household maintenance also declined annually by 1.7% from the 2007 level. This may also be associated with the stabilization of the demand for household services (including employed staff, disinfecting, window cleaning and the like) from a relatively high level during the immediate years following post-hurricane Ivan.
Declining household expenditure was also seen in communication by 4.1% on average and miscellaneous goods and services by 1.7%.
Major expenditures with almost stable per capita expenditure: communication which fell by 4.1% annually; miscellaneous goods and services by 1.7%; and furnishings, household equipment and routine household maintenance by 1.7 %.
"The variation in consumption expenditures growth resulted to significant changes in the spending pattern of the average resident in the Cayman Islands between 2007 and 2015," Minister Archer added.
Housing and utilities remains the largest division among the 12 major consumption divisions, but its share is now reduced to 32.9% from 39.1% in 2007.
Transport, which includes the purchase of vehicles, is now the second largest household expenditure with a 16.4% share, replacing miscellaneous goods and services.
Alcoholic beverages and tobacco products which had the least share in 2007 of 0.7% is now ranked second to the lowest with a 2.3% share in total household consumption. Health expenditures, which are out-of-pocket purchases of households and exclude expenses paid for by insurance, replaces alcoholic beverages and tobacco at the bottom with a 2.1% share.