Home
/
News
/ Consumer Prices Increased by 4.8% in the Second Quarter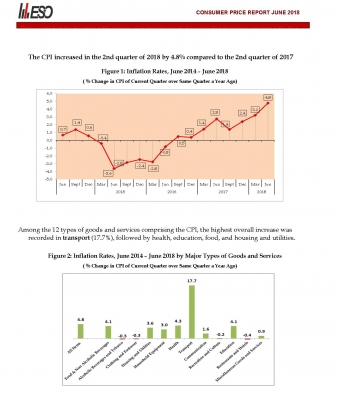 Consumer Prices Increased by 4.8% in the Second Quarter
The inflation rate in the second quarter of 2018, as measured by the Consumer Price Index (CPI) for the quarter relative to the same period in 2017, is estimated at 4.8%.
The CPI represents the overall level of prices of consumer goods and services generally purchased by households in the Cayman Islands. It increases or decreases in one quarter compared to the same quarter in the previous year. There are 2,227 goods and services from 203 providers surveyed by the ESO every quarter that are represented in the CPI.
The second quarter inflation rate is the highest for the Islands since the third quarter of 2005 when it was recorded at 8.6%.
Given the 3.2% inflation rate in the first quarter, the second quarter estimate brings the inflation rate in the first half of 2018 to 4.0%.
The largest contributor to the second quarter inflation rate was air fares which went up by 52.3% on average. This sharp increase coincided with an increase of 61.3% in jet fuel prices in the US Gulf Coast market during the period. In addition, there was strong demand for travel to the Islands as indicated by the record increase in air arrivals.
Fuel prices for local transport also increased by 8.6%.
Electricity rates had a sharp rebound of 21.0% in the second quarter, sustaining the 16.5% increase in the first quarter. The two quarters of increases represent reversals of the declines recorded in the last quarters of 2017.