Home
/
News
/ Consumer Prices Increased by 3.0 percent in 2020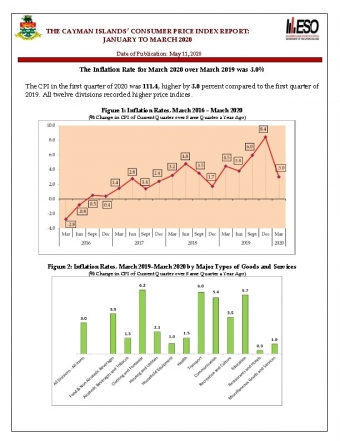 Consumer Prices Increased by 3.0 percent in 2020
The Consumer Price Index (CPI) rose by 3.0 percent in the first quarter 2020 when compared to the same period in 2019. All twelve CPI divisions recorded increases.
In the first quarter of 2020, the division clothing and footwear recorded the highest average price increase in the CPI basket (6.2%). This was due mainly to the rise in the average cost of clothing purchased locally, which rose by 12.6 percent while the footwear purchased abroad increased by 2.4 percent. Locally purchased footwear also rose, but by 2.1 percent.
Despite the electricity and water indexes declined by 8.2 percent and 9.5 percent, respectively, the overall housing and utilities index increased by 2.1 percent, propelled by higher housing rentals.
The index for transport moved up by 6.0 percent in the first quarter of 2020. The main contributors to this increase were purchase of motor vehicles up by 30.7 percent, other purchased transport services also went up by 13.6 percent.
More information from the Cayman Islands' Consumer Price Index Report: January to March 2020 may be downloaded from www.eso.ky