Home
/
News
/ Consumer Prices increased by 0.2 percent in June 2021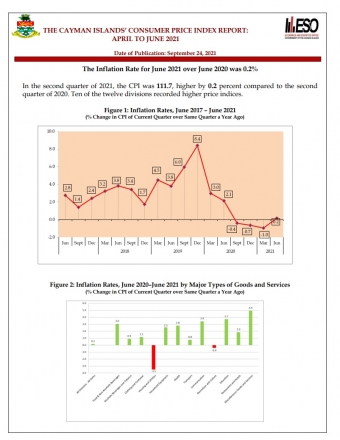 Consumer Prices increased by 0.2 percent in June 2021
The Consumer Price Index (CPI) rose by 0.2 percent in the second quarter of 2021 when compared to the same period in 2020. Of the twelve CPI divisions, ten recorded increased average prices.
In the second quarter of 2021, the division miscellaneous goods and services recorded the largest average price increase of 4.9 percent in the CPI basket. This was due mainly to the rise in the average cost of other financial services which went up by 30.3 percent, costs of vehicle insurance which increased by 12.3 percent, social protection which rose by 9.6 percent, and health insurance up by 5.5 percent.
The education index rose by 3.7 percent, as pre-primary and primary education had an upward movement of 8.3 percent while, the index for secondary education increased by 3.8 percent.
The index for communication moved up by 3.4 percent in the second quarter of 2021. The main contributors to this increase were a 3.6 percent increase in the price of telephone and telefax services and a 1.5 percent incline in telephone and telefax equipment.
A comparison of the second quarter of 2021 and the first quarter of 2021, indicates that the CPI rose by 1.3 percent, as the average cost of transport increased by 4.2 percent, education moved up by 2.6 percent while, household furnishings and equipment rose by 2.1 percent.
More information from the Cayman Islands' Consumer Price Index Report: April to June 2021