Home
/
News
/ Consumer Prices Decreased by 1.0 percent in March 2021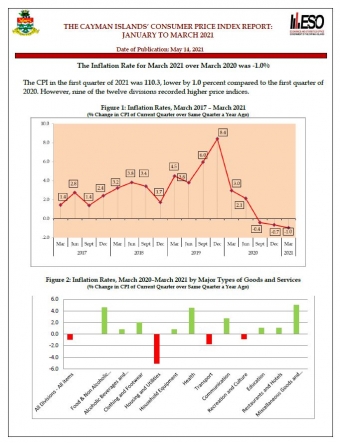 Consumer Prices Decreased by 1.0 percent in March 2021
The Consumer Price Index (CPI) fell by 1.0 percent in the first quarter of 2021 when compared to the same period in 2020. Of the twelve CPI divisions, three recorded reductions in average prices.
In the first quarter of 2021, the division housing and utilities recorded the largest average price decline of 5.1 percent in the CPI basket. This was due mainly to the fall in the average cost of electricity which went down by 8.5 percent, water supply costs which decreased by 6.4 percent, imputed rentals for owner-occupiers which fell by 4.6 percent, and actual rentals paid by tenants down by 4.2 percent.
The transport index declined by 1.7 percent, as fuel prices dropped by 13.3 percent. The index for passenger transport by road decreased by 10.1 percent and purchase of motor vehicles also went down 7.0 percent.
The index for recreation and culture fell by 0.9 percent in the first quarter of 2021. The main contributors to this decrease were a 16.0 percent fall in the price for reception and recording equipment and a 12.0 percent fall in package holidays (abroad).
A comparison of the first quarter of 2021 and the fourth quarter of 2021, indicates that the CPI fell by 1.7 percent, as the average cost of housing and utilities declined by 5.7 percent, education moved downward by 1.3 percent. Household equipment fell by 0.8 percent.
More information from the Cayman Islands' Consumer Price Index Report: January to March 2021 may be downloaded from www.eso.ky