Home
/
News
/ Consumer Price Index Fell by 2.9% in the Third Quarter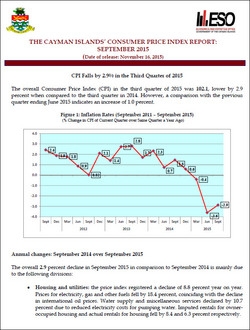 Consumer Price Index Fell by 2.9% in the Third Quarter
"The Consumer Price Index (CPI) fell in the third quarter by 2.9 percent compared to the same quarter in 2014."
This marks the third quarter of consecutive annual deflation in the Cayman Islands. In the first quarter, the CPI moved downward by 0.4 percent and by 3.6 percent in the second.
"The three consecutive quarters of deflation reflects the impact of fuel prices on the CPI" stated the Minister for Finance and Economic Development, Honourable Marco Archer.
The price index for electricity, gas and other fuels fell anew by 18.4 percent during the quarter over the same quarter in 2014. Water supply and miscellaneous services also declined by 10.7 percent as the fuel cost of generating and distributing water went down. Costs associated with the operation of household vehicles also slid by 8.7 percent.
"However, the deflation is slowing down as shown by the 1.0 percent increase in the CPI index in the third quarter over the second quarter resulting from a rebound in fuel prices," the Minister further stated.
More information from the Cayman Islands' Consumer Price Index Report: September 2015 may be downloaded from www.eso.ky.