Home
/
News
/ Compendium of Statistics 2022 Released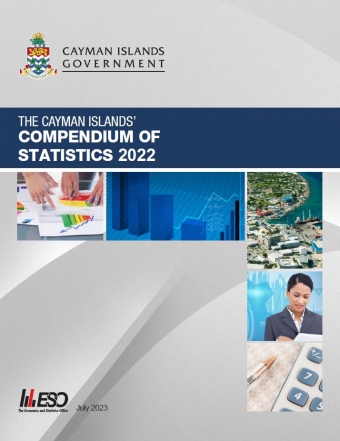 Compendium of Statistics 2022 Released
The Cayman Islands Compendium of Statistics 2022, released by the Economics and Statistics Office, is a comprehensive collection of statistics from various public and private sector data sources covering population, demographics, social and living conditions, the economy, finance, and development; the environment; and information and communication technology.
The country's 2022 population estimate was 81,546 reflecting a growth rate of 14.7 percent (10,441 persons) over the 2021 population count.
In social services, the total number of families who received assistance from the Needs Assessment Unit increased significantly in 2022 to 2,591 compared to 1,783 in 2021. Families assisted with burial expenses rose to 64, while families who received assistance with their rent fell to 440 from 485 in 2021. Similarly, there was a decline in the number of families who got help with their utility bills.
The number of persons receiving poor relief increased to 1,219, up 6.6 percent from 1,143 in 2021. However, aid with school lunches (because lunches are now free), school uniforms, indigent medical care, and optical care all declined relative to the previous financial year.
In environmental health, the total recorded waste managed at the landfills was 145,590 tons. The total waste incinerated during the year was 407 tons. This was higher by 2.5 percent compared to the incinerated waste of 397 tons in 2021.
In the agriculture sector, there was a 5.8 percent increase in cattle slaughtered in the Cayman Islands and a 73.2 percent rise in the number of goats. However, there was a 1.4 percent decline in pigs slaughtered and a 35.7 percent fall in poultry production.
For more information on The Cayman Islands' Compendium of Statistics 2022, visit www.eso.ky.