Home
/
News
/ Census Planning Kicks Off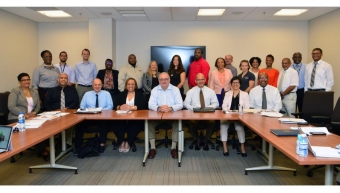 Census Planning Kicks Off
With Cabinet approving the planning process for the Cayman Islands' 2020 Census of Population and Housing to be conducted by the Economics and Statistics Office (ESO), work has begun for this important national exercise.
The Census Advisory Committee met for the first time on Wednesday, 10 October 2018 - exactly two years prior to Census Day 2020.
Set up by the ESO the committee comprises 20 resource persons representing all three islands, and from different branches of the public sector, as well as non-governmental agencies such as the National Council for Persons with Disabilities. The Sister Islands are represented by the District Commissioner and his Deputy.
The committee will inform and advise the ESO in planning for the census in October 2020. This will include helping with the finalisation of the census questionnaire, such as the t new questions that may be added to the Census 2010 questions.
At a meet and greet session with the members present at the meeting, Minister for Finance and Economic Development, Hon. Roy McTaggart, welcomed the advisory team and emphasised the vital role that census data plays in Government's planning for generations to come. The census data is an invaluable tool for the strategic development of all sectors of the community -- public and private sectors, non-governmental and civic organisations.
Describing the census data as the single biggest snapshot about the Cayman Islands, Minister McTaggart reiterated, "The good value of strong data cannot be underestimated."
Important initiatives undertaken using Census 2010 data include the review of electoral boundaries, business planning by the private sector, roads and transport planning, policy reviews for the elderly and persons with disabilities, national energy policy and education sector planning.
Financial Secretary and Chief Officer of the Ministry of Finance and Economic Development, Mr. Kenneth Jefferson also underscored the real and practical significance of the census data to all segments of the Cayman Islands community. He lauded the ESO for the significant service the office provides regularly for all data users in the Islands.
Senior Assistant Financial Secretary, Mr. Michael Nixon added that the census data provides critical information to guide the development and implementation of Government policies, particularly in the areas of infrastructure, social, and economic development.
The planning for Census 2020 will cover all phases of census preparation, field work implementation and post-field dissemination under three sub-committees for mapping, logistics and training as well as publicity, Ms Zingapan elaborated.
Census staff members assisting with the presentation were Mr. Adolphus Laidlow, Ms Andrelene Royal, Mr. Travis Walters and Ms Nicole Emmanuel-Jones.
For further information contact: Bina Mani